Bev I Am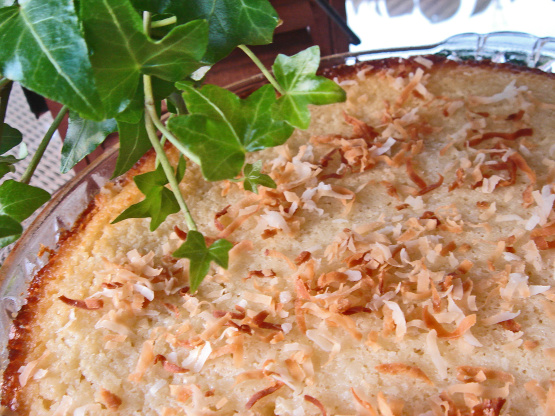 This... I got it from a newspaper clipping years ago.. is a "fun" pie to make as well as a conversation piece. I got it from a newspaper clipping years ago.

This was truely Magic. So quick and easy to prepare with just several on hand ingredients. I was amazed at how it makes its own crust. I followed the amount of ingredients and instructions without any alterations, using the crushed pineapple. I found two things I would do differently the next time. I would use two cups of crushed pineapple instead of one to enhance the pineapple flavor. With only one cup it had the wonderful light fluffy taste of an egg custard and not quite enough pineapple taste. I also found that after the 40 minute cooking time was up, the middle of the pie was no where near set but the edges were getting very brown. I covered the edges with aluminum foil and had to bake for another 40 minutes before it set. I will have to check my oven as the temperature may be off. It was wonderful, light, tasty and super easy and I will add it to my favorites.
Preheat oven to 350 degrees F.
Place all ingredients in a blender and combine thoroughly.
Grease and flour 10" deep dish pie plate.
Pour mixture into pie plate and bake in preheated 350-degree oven for 30 to 40 minutes or until set.
"Pie" will make its own crust as it cooks.
Serve at room temperature.