leahah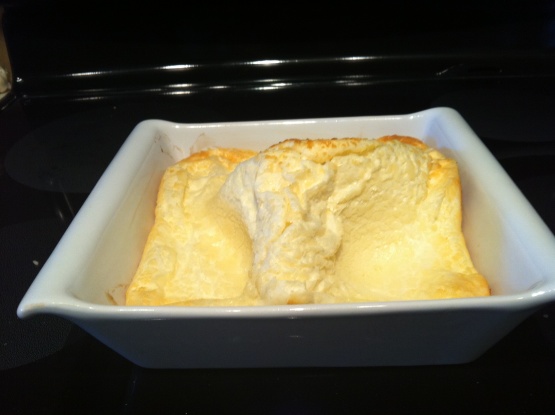 You will not believe how good this is. It tastes like french toast only puffy. Super good!!!! For doubling the recipe be sure to use 2.5 liter round, high sided baking dish and you can use 4 eggs instead of 6. I did that and there was no difference. Enjoy!!!

I'll definitely be making this again for breakfast, & one of these days it'll be for company, since it's such an unusual one, at last around here! Easy to make & great in the eating! We did have it with some pure maple syrup, but another time I wouldn't mind it with a homemade fruit sauce/syrup! Thanks for sharing the recipe! [Made & reviewed for one of my adopted chefs in this Spring's Pick A Chef]
Set the oven to 425°F Put the butter in a microwave safe bowl. Microwave it on HIGH until the butter is melted. (25-30 sec.).
Add the eggs, milk, flour, salt, and vanilla to the melted butter. Whisk until all of the ingredients are smooth.
Grease the bottom and sides of a 1.6 liter round, high sided baking dish. Pour the egg mixture into the dish.
Bake the pancake for 25 minutes or until it is puffed and golden brown. Carefully remove from the oven. Sprinkle with powdered sugar if you like. Cut into 4 triangles. Serve with syrup. Enjoy!
Variation: before baking, fill the center of the pancake puff with fresh fruit such as, blueberries, raspberries, or sliced strawberries.