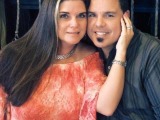 This recipe came with my Rival crock pot. The meat loaf is very moist and tender on the inside and a little bit crunchy around the outer edges. I cook mine on low for 9 hours.
Directions
Reserve 2 T. ketchup.
Combine ground beef, eggs, oats, soup mix and remaining ketchup.
Shape into loaf and put into crock pot.
Top with remaining ketchup.
Cover, cook on low 8 - 10 hours.
Most Helpful
This recipe was easy and delicious. I used a combination of 93% ground turkey and 85% ground beef. It came out moist, and not at all greasy. I cut it into small portions and served/ stored it with pasta sauce on top. Next time I may add chopped veggies and shredded cheese as well . This is the first time I have made meatloaf in the crock pot, and the entire house smelled wonderful. I will definitely make this regularly.
Even though I use the crockpot a lot, this is the first time I have ever made meat loaf in it. It turned out delicious. I did substitute dried bread crumbs for the quick cooking oats just because I always use those for meat loaf. It was done in 8 hours and it was very moist and tasty. I like how there was very little grease, too! Thanks for sharing, Juenessa.