Magic Cookie Bars - Cake Mix Version
kaurorac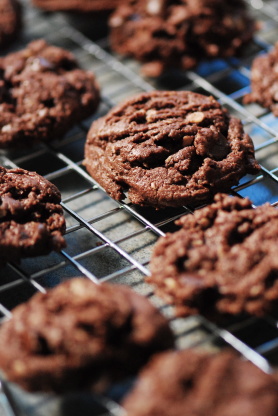 My mom got this recipe off a cake mix box and we have been making it for years. It is very adaptable, incredibly easy, and very rich.

Great! Used a white cake mix. 10 year old grand daughter made them and had a wonderful time. I'm not in a baking mood this year and this certainly fit the bill. Thanks for sharing a very good recipe. I like the cake mix for the crust much better than just flour recipe version. Gives it a little more cookie so you can actually pick up the cookie to eat it. Thanks a lot for posting.
Preheat oven to 325.
Place cake mix in a medium bowl, cut in the cold butter using a pastry blender. The mixture will remain crumbly.
Press mixture into an ungreased 10 X 15 pan.
Sprinkle chocolate chips, butterscotch chips, nuts, and coconut over the base.
Drizzle sweetened condensed milk over the whole pan.
Bake for 25-30 minutes, or until lightly browned.
Cool completely and cut into bars. (I like to cut them into large triangles).
Note: I have used other cake mix flavors for the base, such as yellow and butter, and they turned out well.