Maghmour (Lebanese Style Moussaka, Vegan)
awalde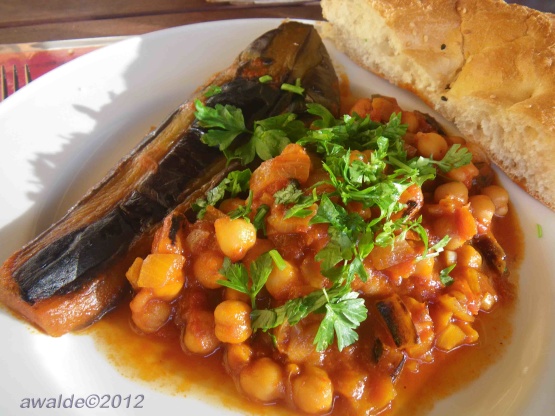 Oh so delicious if you like eggplant like me! Modified from a recipe found on http://desertcandy.blogspot.ca

This was easy and very flavorful. I love eggplant and this was a great way to showcase it. All definitely make again. P.S. we didn't use any oil and it was still fab!
Trim the tops and bottoms of the eggplant.
Peel the eggplants in alternating strips, leaving strips of the dark skin.
Choose a large wide skillet, a 9 inch cast iron or ceramic pan is great.
Heat a generous amount of extra virgin olive oil in the skillet.
Add the eggplants and cook over medium heat until browned in spots, but not cooked through.
Work in batches if necessary.
Remove to a paper towel to drain.
Take 2 of the eggplants (or eggplant halves) and dice.
Add more extra virgin olive oil to the skillet, there should be about a 1/4 cup of extra virgin olive oil in the skillet. Add the onion and garlic and chickpeas and saute until softened.
Add the tomatoes, season with sea salt and freshly ground black pepper.
5. Stir in the diced eggplant. Nestle the 4 whole eggplants in the skillet and cover with a tight fitting lid. Cook for 25 minutes, flipping the eggplants once halfway through.
6. Test the eggplants for doneness, and add more liquid if the tomatoes get dry. The dish is done when the eggplant is tender. Sprinkle with chopped flat leaf parsley before serving.
Enjoy.