Maggie's Lemon & Sugar Cake
Syrinx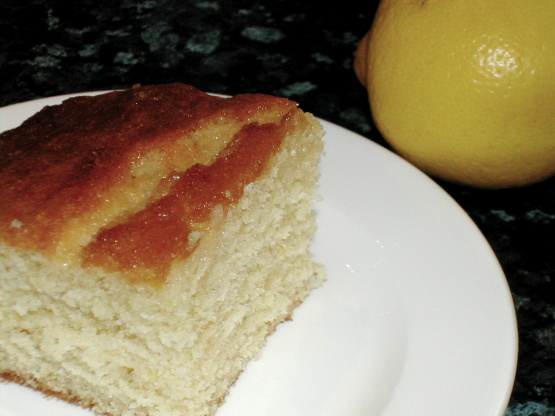 This recipe is from my future mother in law, and it is just amazing. Soooo easy that it now makes a regular weekday appearance. I recommend following the recipe to the letter, but have made an amendment to the glaze because I think it's too gritty if you don't heat the sugar and lemon juice before spreading it over the cake. Mmm...think I'll go make one of these now!

Top Review by Syrinx
Wonderful! Light, lemony, easy to make... We loved it. The sugar for the lemon syrup isn't mentioned in the ingredients list, so I wasn't sure whether to hold back 3 tbsp or to measure out an extra dose of sugar - in the end, I measured out more, and it worked fine. Note that the juice of the lemon is also required, and not just the zest listed in the ingredients. Next time, I will use two lemons, because we're fond of them. This is an excellent cake. Reviewed for Pick A Chef, Fall 2007.
Mix all ingredients in a food processor for about 15 seconds.
Then put it into a 20 cm tin and bake on 325F/170C for about 35 minutes. Mine is usually done by then, but the recipe says 45 minutes.
Mix the juice of one lemon and 3 tbs sugar, then heat it in the microwave for about 20-40 seconds until the sugar is melted into the lemon juice.
Let the cake cool for 10 minutes, then pour the lemon/sugar mix on top.