Maggie Beer's Roasted Mushrooms
ImPat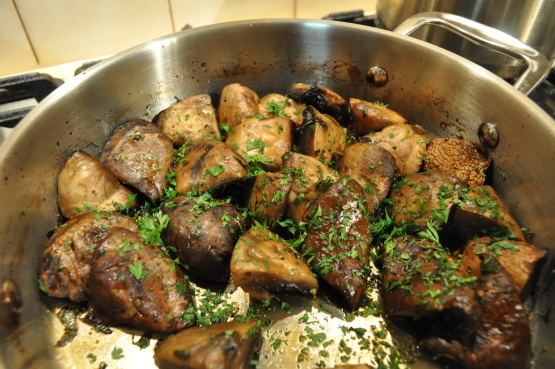 Great with steak or at brunch as a side to an egg, stirred through pasta or on toasted sour dough bread as bruscetta.

Top Review by ImPat
I used 300 grams of each for 4 of us and 2 rated it 3 (found it too sweet) and the other 2 5. This is the first time I have used verjuice and didn't realize it could be so sweet but did enjoy the chunky texture of the mushrooms. Thank you Jan, made for Make My Recipe - Spring Edition.
Preheat oven to 180c.
Place mushrooms, verjuice, parsley stalks, oregano, salt and pepper in a baking dish and toss to combine.
Roast until well cooked (this could take up to an hour, then transfer dish to stove top and cook until 1/4 of the liquid remains.
Sprinkle with the extra chopped parsley and enough olive oil to moisten a little.