Maggiano's Little Italy Italian Trifle With Seasonal Fruit
KaylieG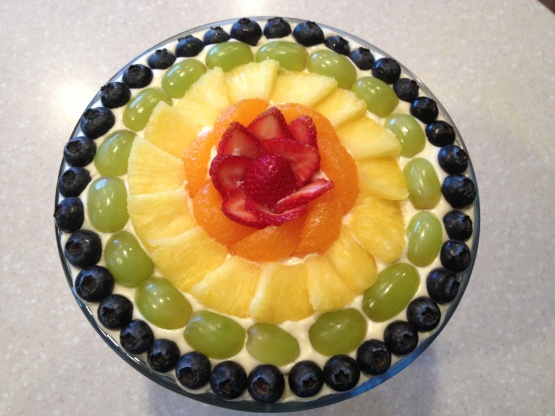 Great fresh fruit dessert! Beautiful presentation!
My Italian grandfather (Nonno) requested a birthday cake last fall that had grapes, strawberries and pineapple. Nothing came to mind, but with a little research, I found this perfect recipe! He must have had this dish or something similar in Italy before, because he seemed to have it in mind. This is simply delicious! I highly recommend it! I tried to be a little creative with the way I configured everything. I used a cookie cutter to make stars for the side of the dish. Since fruit is coming back into season now, I made another one for Easter this year. The design for this included bunnies and flowers. Once again, everyone loved it and it didn't last long! I've added pictures of how both turned out. Hope you like them and that maybe they inspire you to be a little creative as well!
Pastry Cream:
In a stainless steel pot, scald milk by heating until skin forms on top.
Meanwhile, whisk together yolks and sugar well.
Add cornstarch and whisk. Once milk is scalded, slowly pour into egg mixture while whisking.
Once incorporated, pour back into pot and put over low heat while whisking. Cook mixture just until it gets thick and comes to a boil.
Remove from heat immediately and pour into metal bowl. Whisk vanilla extract and cover directly with plastic wrap. Let cool several hours or overnight.
In a small mixer, whip cream and sugar until stiff. Fold into cooled pastry cream mixture.
Assembly:
Mix all fruit together in a bowl.
In a sundae glass, place one cake cube on the bottom.
Top with two ounces of cream mixture. Top with two ounces of fruit plus place for more cubes of cake on top of cream mixture and press slightly.
Top with three ounces of cream mixture.
Reserve remainder of fruit as a garnish.