Maggiano's Little Italy Chop Salad
Cook4_6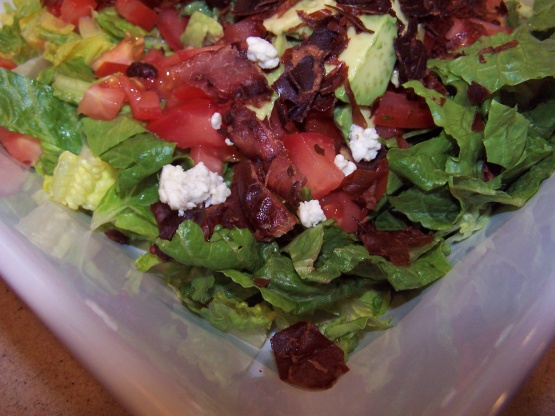 I tried this last night at Maggiano's and loved it. I prepared this and to my delight found that it is a pretty good imitation of the original. This is a modification of a recipe I found on Recipe Goldmine. I would suggest making "Crispy Crumbled Prosciutto" instead of pan frying prosciutto, but either works.

This is a a review of the dressing, which was top notch. I just threw everything, including the whole garlic cloves, into the VitaMix and let 'er rip - turned out to be a lovely creamy Italian dressing. I added some lemon pepper because I put that in everything, and used freshly grated Romano because that's what I had - terrific dressing - thank you!
Salad

1⁄2 head iceberg lettuce, in 1/2-inch dice

1

head romaine lettuce, in 1/2-inch dice

2

plum tomatoes, in 1/2-inch dice
1⁄2 cup danish blue cheese, crumbled
1⁄2 cup prosciutto, pan fried until crispy and chopped
Italian dressing (recipe follows)

Garnish

1

avocado, small dice

1

teaspoon prosciutto, pan fried

Dressing

1 1⁄2 teaspoons Coleman's dry mustard (or S&B Oriental Hot Mustard powder)

2

tablespoons granulated sugar (or Splenda)
1⁄4 cup water
1 1⁄2 teaspoons garlic, finely minced

2

tablespoons red wine vinegar
1⁄4 cup white vinegar
salt, to taste
3⁄4 cup canola oil
1⁄2 cup virgin olive oil
1⁄2 teaspoon crushed red pepper flakes (omit if using hot mustard)
1⁄2 teaspoon whole black peppercorn, fresh ground
1⁄4 teaspoon fresh oregano (or 3/4 t. dried oregano)
1⁄2 cup parmesan cheese, grated
Combine mustard, sugar, water, garlic, red and white vinegar and salt in food processor. Mix until smooth. Slowly drizzle in the oils, continue to blend. Add remaining ingredients and blend until well mixed. Recipe can be doubled with remaining stored in sealed container in refrigerator for up to a week.
Place lettuce in large mixing bowl Add all the ingredients except garnish and mix well. Add dressing and mix well.
Serve, topping each portion with garnish.