Cook4_6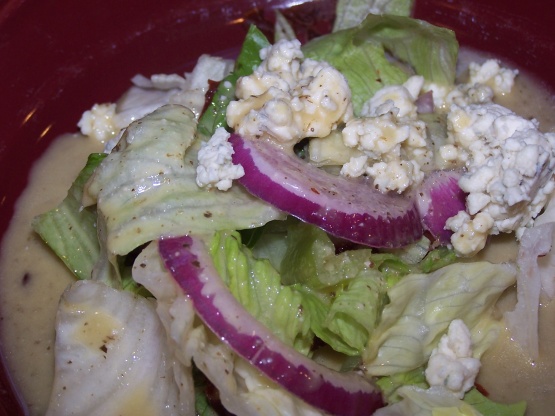 This recipe is adapted from Maggiano's Little Italy House Salad. I made some changes in my review and wanted to save them completely on here. My husband and I go to Maggiano's often and can't get enough of this salad. I make this at home all the time... sometimes as a meal in itself or a salad wrap, or salad in a pita. This salad is soooo sooooo good! I hope you enjoy it too! Updated: I halved the dressing because the original makes much more than you need.

Yummo! I have not had Maggiano's House Salad, but this is a winner! Instead of frying the proscuitto I made "Recipe #239502" and it turned out fabulous! This is now a rival for my favorite salad "Recipe #158283" They are running neck in neck! Thanks for posting! In subsequent preparations of the dressing I have added 1/2 cup of either grated or shredded parmesan. It is a nice touch!
In a skillet, cook prosciutto until it turns dark.
Let it cool, and chop it up.
Add all salad ingredients in large salad bowl.
Whisk together all dressing ingredients.
You won't need all the dressing, but it will store in air-tight container in the fridge for about a week.
Toss dressing over salad just enough to coat all lettuce.
Serve immediately and enjoy!