lets.eat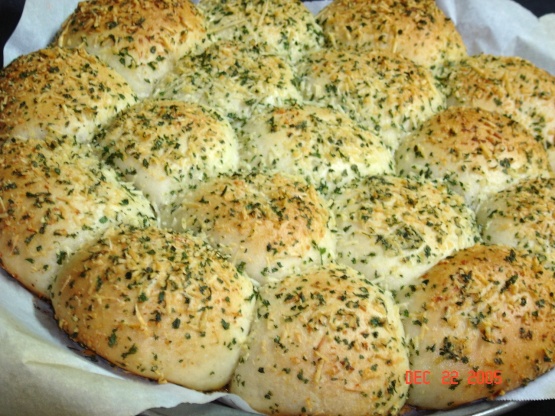 I went to Magelby's restaurant 6 years ago and had theses rolls. Well I searched high and low and finally found the recipe only to find they started with Rhodes roll dough! I have always been pretty fanatic about making my own rolls from scratch but I wanted these so bad--turns out NO one can tell they aren't from scratch! You can use fresh or dried parmesan cheese, I believe the restaurant used the dried, but my husband prefers fresh grated--both ways are excellent!

We all loved these easy and delicious rolls at our Thankgiving dinner. The only thing I did differently was to put the rolls in 2 cupcake pan (one roll per tin), otherwise I followed the recipe exactly. With only 7 of us and 24 rolls we did have some leftover which I put in a gallon-sized freezer bag and froze. Heated them up on Saturday and they were still delicious!
Spray a large baking sheet.
Mix cheese, parsley, and garlic in a small bowl.
Roll frozen dough balls in melted butter and then in cheese mixture being careful to coat completely.
Place on cookie sheet allowing plenty of room for rolls to raise.
Spray a piece of Saran wrap and place sprayed side down on rolls.
Allow to rise at least 3 hrs in a warm place.
Remove plastic wrap and bake in preheated 375°F oven for 15 minutes (I have had to bake longer and so to prevent your cheese from turning to brown, you might wish to lower the temp to 350°F and bake a little longer).