Madras Vegetable Curry (Vegetarian)
Jubes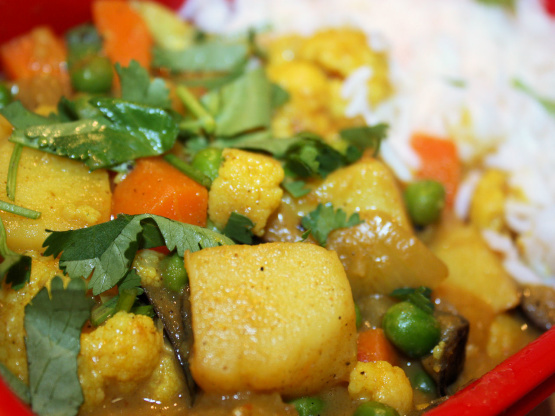 Altho I did not choose this vegetarian dish from the cruise menu, I found it in the *Carnival Creations* cookbook by Cyrus Marfatia (Exec Chef of Carnival Cruise Lines) & see it as a fine example of the great care taken to provide tempting vegetarian choices across all courses for the vegetarians on-board the ship. The recipe intro description stated that "An assortment of distinctive spices makes this Indian vegetable dish dance with tremendous flavor" & it was later suggested that it be served w/cinnamon-flavored cooked rice which I see as an esp appealing option. (Times were not given, so I estimated 20 min for ingredient prep + 20 min cook time). *Enjoy* !

Top Review by ellie_
I selected this recipe in Zaar Tag to use up half a can of coconut milk in the fridge - and I am glad I did! Very good and (surprisingly) filling dish served over rice (for the cinnamon rice I added a cinnamon stick to the rice cooker cooked on regular rice -- very good and almost too easy!). And per the recipe suggestions I put the spices (cloves -bay leaves) in a cheesecloth bag, so I could remove them easily at the end of the cooking time. Oh, I didn't measure my veggies, so my amounts were off a bit, but I don't think that made any difference in the final delicious end result. Thanks for sharing!
In a lrg frying pan, heat oil till hot over med-high heat. Stir in onion, cloves, cinnamon, cardamom + bay leaves & cook till onion begins to brown (See NOTE below).
Stir in garlic, gingerroot + curry powder & cook till flavors are released (I assume aroma is the test of this point).
Add tomatoes & cook for 3 minutes. Reduce heat to low, stir in potatoes & cont cooking till potatoes are partially cooked.
Stir in carrot, cauliflower, eggplant + coconut milk & simmer till vegetables are tender, stirring occ.
Remove whole spices & bay leaves. Stir in peas, season to taste w/salt, stir in the cilantro & serve immediately as suggested.
NOTE: Altho not mentioned in the recipe, stirring in the whole spices + bay leaves & then removing them as above seems like a lrg challenge unless they are introduced to the dish in 1 of those porous spice cooking bags. :-).