jk523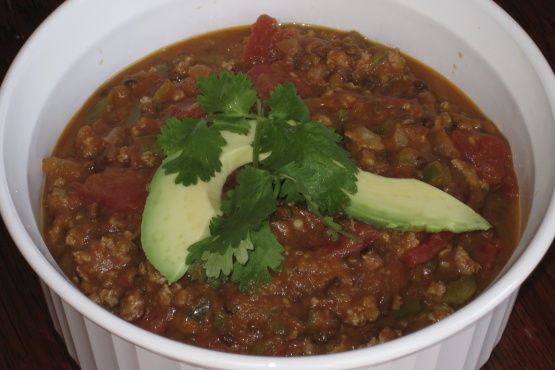 Lentils and red beans in a creamy spiced up tomato sauce. Add ground beef/turkey for a variation on chili.

This is a very tasty dish. I don't used canned beans so I put 2/3 cup dry lentils and 2/3 cup small red beans in my pressure cooker with 4 cups of water and cooked for 15 minutes. After the beans came to pressure, I continued the recipe from the top. It turned out fabulous! The yogurt is optional as I forgot to add it at the end and never missed it.
Saute onion and garlic in some canola oil.
Add cumin, chili powder and cayenne, stir it in with the onions and garlic for a couple minutes.
Added a can of crushed tomatoes (not drained). This is when you add the green chilies if you use them.
Lowered the heat and let it cook down for a bit. About 5-10min.
Added cooked lentils (cooked from dry) and red beans, no need to add water.
Add the salt, lowered the heat and let it cook down until it thickened.
Added just the smallest amount (mixed into each serving of a maybe half tsp) of plain fat free greek yogurt to give it a creamier texture.