Madras Curry (Vegan or Chicken)
Bergy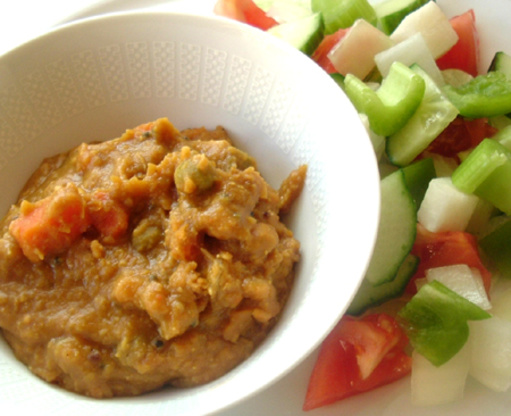 This is from www.worldspice.com, the site for World Merchants, an incredable spice and tea shop hidden below The Pike Place Market in Seattle. The owner, Tony Hill is a fanatic for good food. His spice blends are shipped un-ground if requested. I run just enough for each recipe through a black Braun coffee mill (Not the white one I grind coffee in.)minutes before use. I am slowly working my way through his shop. It is amazing how much I don't know about spices, but I am Learning.

I was looking for something easy to heat at work for lunches in winter, and this perfectly fit the bill. Good flavours and very healthy, what more can I ask for? It was also great to cook on my OAMC day (which is actually once a week), because I could make other dishes while it simmered away. Thanks!
2

teaspoons peanut oil

1

cup turnip, diced

1

cup carrot, cut into 1/4 inch roundels

1

cup yellow onion, diced
1⁄2 cup chicken breasts (optional) or 1⁄2 cup chicken thigh, diced (optional)

2 -4

tablespoons freshly ground Madras curry powder (almost any curry will do nicely but my favorite is the Madras)

2

cups chicken stock or 2 cups vegetable stock

1

cup potato, diced 1/4 inch

1

tablespoon jalapeno, seeded, vained, minced
Heat a heavy stock pot, add Oil.
Add Turnips, carrots, Onions, and Chicken (if used).
Saute 'til slightly carmelized.
Add Curry Powder, continue to saute (stir fry)'til the curry coats all of the vegetables and chicken.
Add water to barely cover ingredients, simmer very slowly for 2 hours.
Add water to keep the mixture covered.
Add Stock, Potato, and Chilies.
Cook and reduce for another hour or so 'til the potatoes break apart and thicken the dish.
Serve over Basmati Rice cooked with a few Green Cardamom Pods or a Cinnamon stick or a few strands of Safron.
A nice Sangria goes very, very well with this dish.
***NOTE*** Always cook currys slowly for a long time to allow the full flavor to develop.
Curry powder from different parts of the world vary tremendously so experiment with all of them, you won't regret it.
Omit the Chicken and Chicken Broth for Vegetarian.