Madhur Jaffrey's Sweet and Sour Okra
Susie D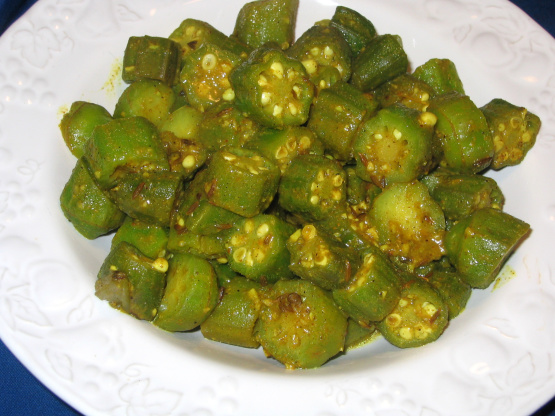 I love okra and this is a really good to way to prepare it. You can add more red-pepper if you like more heat.

Score! This is an over the wall home run recipe! Man oh man are these pods good. If you like okra you will adore this dish. My pods were tiny so I just cut them in half. A tip Ihave learned is the less you mess with cut okra pods the less slimy it will be so toss and stir as little as possible. Terrific dish. Loved it.
If fresh okra is used, trim off any tough stems.
If frozen okra is used, defrost and drain.
Cut each pod into 3/4 inch lengths.
Put the garlic, pepper flakes and three tablespoons of water in the blender and blend as thoroughly as possible.
Empty the mixture into a small bowl and add the ground cumin, coriander and turmeric and blend well.
Heat the oil over medium high heat in a nine inch skillet and add the whole cumin seeds.
Cook briefly until the seeds start to sizzle and add the spice paste.
Cook, stirring, about one minute.
Add the okra, salt, sugar and lemon juice and the remaining four tablespoons of water.
Stir to blend.
Bring to a simmer, cover closely and cook over very low heat about ten minutes.