Made from Scratch Hashbrowns
Prep 10 mins
Cook 10 mins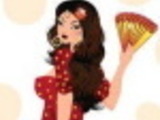 Adapted from Hugs & Cookies XOXO
Directions
Shred potatoes in a food processer.
Squeeze excess water from the potatoes-I did this using a potato ricer!
Heat oil in a large skillet on medium high.
Lay shredded potatoes on the hot oil, spreading in a thin layer.
Season with salt, pepper and paprika.
Let cook about 10 minutes until browned but lift and peek underneath to check it as it cooks.
Once golden, cut in half with spatula and flip each half. Season again.
Fry until golden and break into smaller pieces!
Reviews
Most Helpful
This is how I make my hashbrowns and it turns out great every time. I have to turn it on high on my stove. Make sure the oil is good and hot before putting in your potatoes. One large Idaho is just right for the two of us.

This was my first experience with homemade hashbrowns. I liked that the recipe was quick,easy and now I can have fresh hashbrowns with breakfast at home. I used one potato for one serving, cooked 6 minutes on one side and 4 minutes after flipping. Thanks for sharing this recipe.