Madame Wong's Hot and Sour Soup
MsPia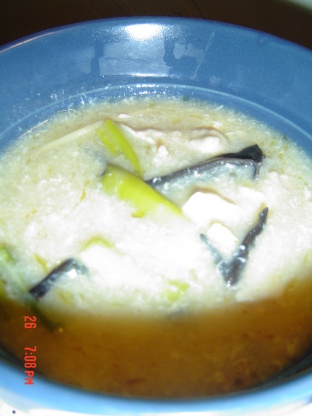 I love Madame Wong's Long-Life Chinese Cookbook and this is another one of her great recipes. The work is all in the beginning...getting the ingredients sliced and diced, but it's all worth the effort. I think you'll like this soup. Serve it on a cold, winter night, early or late, your family will love you.

I made this as describeed. And it was wonderful. Unofrtuanately I allowed my youngest daughter to express an opinonn on my effors [adopted at 7 from Nothern China] and clearly it was not spicy enough for her. A tablespoon of chili-garlic sauce solved that problem. She has already reserved her portion for breakfast and lunch. Thank you so much. This is the first time I have been able to create a H&S Soup that met her approval. Too_Tired
4

dried black mushrooms
1⁄4 cup dried black fungus
1⁄2 cup lean pork, cut into a fine julienne
1⁄2 cup bamboo shoot
1⁄2 teaspoon salt

1

teaspoon cornstarch

1

tablespoon oil

6

cups chicken stock

2

tablespoons light soy sauce
1⁄2 teaspoon pepper, white pepper is best

3

tablespoons vinegar

2

tablespoons cornstarch, dissolved in
1⁄4 cup water

1

container firm tofu, cut into thin strips

2

eggs, beaten

1

tablespoon sesame seed oil

2

scallions, cut into 1 inch lengths (green onions)
Put mushrooms and fungus into separate bowls.
Cover each with boiling water.
Let soak 3-4 hours, or overnight (to be honest, I let them soak about 15 minutes but I'm writing the recipe the way Madame Wong wrote it).
Remove stems from mushrooms.
Remove woody parts from fungus.
Separately cut mushroms, fungus, pork and bamboo shoots to fine julienne.
Mix pork with salt and cornstarch in a bowl.
Heat wok and add a dash of oil, stir-fry pork until color changes.
Bring chicken stock to a boil in a large pot.
Add mushrooms, fungus, pork and bamboo shoots.
Stir constantly.
Add soy sauce, pepper, and vinegar.
Thicken with dissolved cornstarch, stirring constantly over moderate heat.
Add bean curd, bring to a boil.
Turn off heat.
Add beaten eggs.
Stir quickly 30 seconds.
Add sesame oil.
Garnish with scallions and serve hot.
Note: add more vinegar and pepper if a spicier taste is desired.
Note#2: This can be prepared in advanced up to adding the bamboo shoots, or frozen after adding the soy sauce, pepper, vineagar and thickening with the cornstarch.
Bring to room temperature and complete.