Madame Soohoo's Fish and Rice (Rice Cooker)
IngridH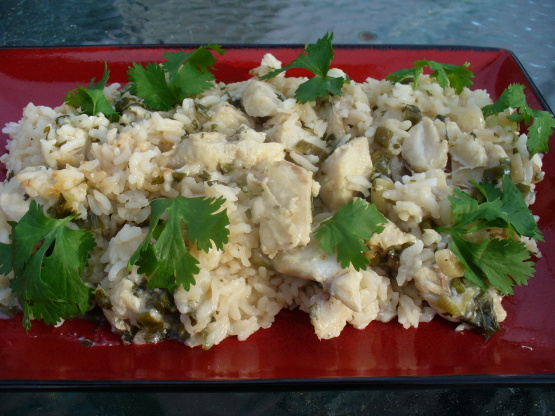 From The Ultimate Rice Cooker Cookbook. The authors call for a 6 cup rice cooker for this recipe, and I don't think it would fit in anything smaller than that. Serve this with a salad or steamed vegetable for a full meal. You can use whatever fish you like for this recipe, just be sure to break it into small pieces so that it will cook through in time your machine takes to cook the rice. Prep time includes marinating the fish.

I love finding recipes for the rice cooker! It does so much more than cook rice. I love enjoying a fast virtually fat free recipe and this one is no exception! I did use fish sauce for the oyster sauce and instead of white rice we had brown! This was perfection for a hot afternoon when heating up the kitchen was not an option! I loved the cilantro flavor it really shines through! Thanks for posting! Made for the Queens of Quisine ZWT6 Family Picks!
Place the fish pieces in a shallow bowl or baking dish.
Whisk together the marinade ingredients (garlic through sesame oil), and pour over the fish.
Marinate for 20-30 minutes at room temperature, or up to 4 hours in the refrigerator- no more than 4 hours, or the fish will get mushy.
Rinse the rice very thoroughly in a strainer, then place in the rice bowl.
Add the water, and stir to combine. Place the fish pieces on top of the rice, then add any remaining marinade.
Set the machine for the regular cycle.
When it switches to 'keep warm', let it sit for 5 minutes, then serve immediately.