Madagascar Bourbon Vanilla, Bourbon Extract
Rita1652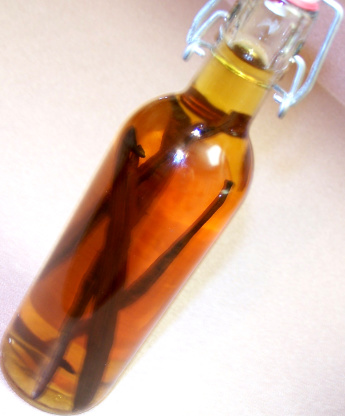 Madagascar Bourbon vanilla beans does not have anything to do with Bourbon whiskey, it derives its name from the old name for Madagascar - the Bourbon Islands. In this recipe I do use bourbon whiskey and Madagascar Bourbon vanilla beans. You can use your choice of rum, vodka, everclear, scotch, or brandy. Even flavored rums or vodkas for a special touch. Bourbon vanilla beans, from Madagascar and the Comoro Islands in the Indian Ocean, are known for having the best aroma and are sweet or buttery flavored. Give as a gift with a recipes from zaar using vanilla extract.

Unbelieveable, I will NEVER buy store bought again, Never... What a Flavor, and Scent. Made 2 one with straight Vodka, One Vanilla Flavored Vodka. They are both amazing. This is a MUST TRY. 10 STARS You will never go back to store bought EVER...LOL
6 -8

vanilla beans, Madagascar Bourbon, split lengthwise
1 1⁄2 cups vodka, top grade (flavored if you like)
1⁄2 cup Bourbon, top grade
Combine ingredients in a jar with tight fitting lid.
Cover jar and let stand 4 weeks.
Mixture will turn amber colored in a day or two.
Shake every couple days and store out of direct light and heat.
When bottle is 1/4 full add three to four more beans and more alcohol. Let stand for another week before using. Seeds may float in the syrupy liquid but unless you are giving the finished product as a gift, don't remove them-they only add to the flavor. Use one-forth to one-third the amount called for in most recipes as this has a very strong vanilla flavor. The vanilla beans are good as long as they have a vanilla scent. When they have lost their scent, discard and replace with fresh beans. The beans can be removed from the alcohol and scraped or chopped and use them in recipes in place of the extract if you want a strong vanilla flavor.