Mad Dog's Ultimate Whole Wheat Semolina Bread
Chilicat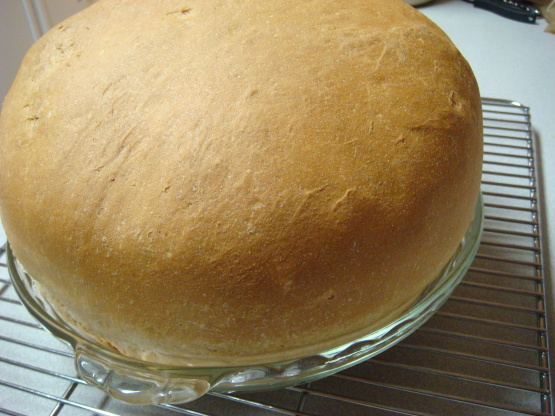 A very light whole wheat bread that is better than any other recipe you ever tasted. The texture and aroma are addicting. My own creation this is an easy favorite!

Excellent loaf!! I dumped everything in the bread machine and let it do all the hard work (it does a better job than I ever could!). I needed close to 1/3 cup more water to make a nice, smooth dough, but other than that I didn't make any changes. I put the loaf in a large pyrex pie dish, and boy did it rise! The finished product was evenly textured on the inside and smelled and tasted wonderful. I couldn't have asked for a better loaf! Thanks for posting!
Proof yeast with 1 cup of water that has had the honey mixed into it for ten minutes.
Sift flours (bread, whole wheat & SEMOLINA) and salt together into mixing bowl.
Mix flour combination with the melted butter.
Mix flour combination with proofed yeast and additional water until a dough ball is formed.
Knead dough for ten minutes.
Place dough into a buttered bowl, cover with a damp cloth and let rise in a warm, draft free place (I heat oven to 115ºF and then turn it off) at least one hour until dough doubles in size.
Punch down the dough, form it into a loaf and place in a buttered metal bread loaf pan (big one as this makes a big loaf).
Let loaf rise a second time (at least one hour or until loaf doubles in size) in a draft free warm place (I put into the microwave and leave it uncovered.).
Bake bread in a preheated 375ºF oven for 35 minutes until bread reaches an internal temperature of 180-200ºF.
Turn bread out of pan and let cool on rack.