Mackie's Low Carb/Sugar Free Cheesecake
PumpKIM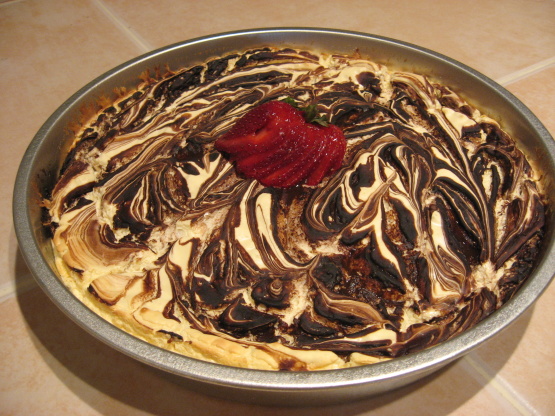 I got this from a friend that was on Atkins. I have diabetic family members and decided to take it to a family dinner! Wow, those that weren't diabetic couldn't tell.

Top Review by Vinca
Great cheesecake! I added a bottom crust of ground up walnuts, unsweetened coconut, Splenda and butter and added some cinnamon and nutmeg to the batter. Then I made a topping (to put on the cooked cheesecake) of chopped apples, cooked until just soft with a sauce using water, cornstarch, a little Splenda, cinnamon, nutmeg and a pinch of ginger. I already had it in a springform pan before I read the part about cooking it in a pan of water, so I omitted that and just baked it. It came out perfectly! A great diabetic dessert.
Mix cream cheese in mixer until smooth.
Add sour cream.
Add 1 egg at a time.
Add remaining ingredients and mix until smooth.
Spray a pie pan with PAM and pour in cheesecake mixture. Place cheesecake in a larger pan with enough water so that the water goes up 1/3 to 1/2 up the side of your cheesecake.
Bake 38-45 minutes at 375 degrees.
If you are concerned about fat and calories you may use lite cream cheese or a combination of regular and lite.
Note though that doing so will add carbs to the recipe and it may effect the texture.