katii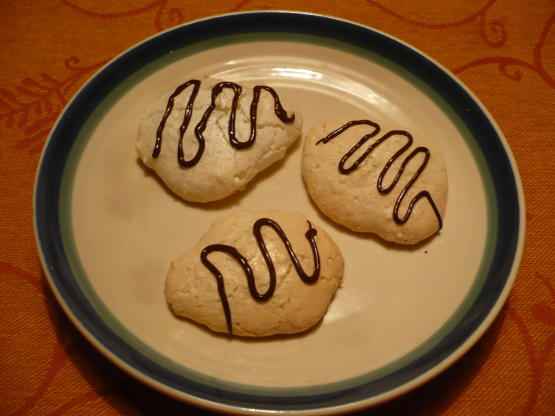 Light as a feather and low in calories!

So I just made these. I only had 1 cup of coconut so i added 1 cup quick oats. They still turned out awesome. I'll make them with 2 cups coconut for my daughters birthday but it's nice to have the option for a lower fat cookie. delicious!
Spray a large cookie sheet with non stick cooking spray. Set aside.
In a large mixing bowl beat the egg whites with an electric mixer on high speed until soft peaks form (tips curl).
Gradually add the sugar, 1 tbsp at a time, beating until stiff peaks for (tips stand straight). Fold in the coconut.
Drop by rounded teaspoons 2 inches apart onto the prepared cookie sheet. Bake in a 325 degree oven about 20 minutes or until edges are light brown. Transfer to a wire rack and let cool.
In a small saucepan, combine chocolate and shortening. Cook and stir over low heat until smooth.
Fill a sandwich bag with the chocolate and snip the corner off to form a small hole. Pipe chocolate through the hole over the macaroons. Let stand until chocolate is set. Store cookies in an airtight container.