PaulaG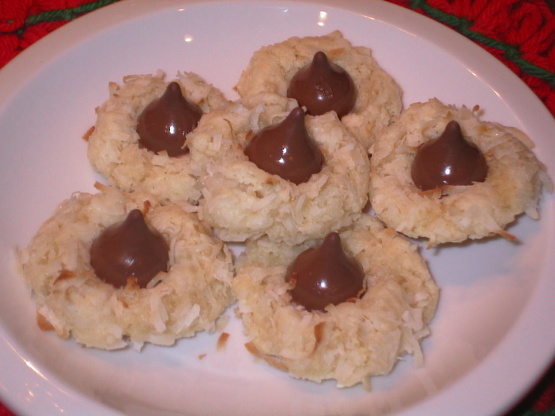 This came out of a magazine and it really is one of the best recipes I found. Yummy! 8)

I was thrilled to find this recipe. I wanted to make them for Christmas, but I hadn't made them in so many years, I had long lost the recipe. I was so excited to find it here. The cookies are wonderful. I use milk instead of the orange juice and I'm going to use dark chocolate kisses then press a roasted almond on top while still warm. Yum.
In a large bowl, beat the butter, cream cheese and sugar.
Blend well, then add egg yolk, almond extract and orange juice; beat mixture well.
Stir together the flour, baking powder and salt.
Gradually add to the butter mixture and beat until well blended.
Stir in 3 cups of the coconut; cover mixture and chill for 1 hour, or until firm to handle.
Unwrap the kisses while chilling and heat oven to 350°.
Form dough into 1-inch balls; roll them in remaining coconut.
Place them on a ungreased cookie sheet. Bake 10-12 minutes until lightly browned.
Remove from the oven and quickly press a kiss into each center.
Let cool 1 minute, then transfer to wire rack to cool completely.