Macaroni With Creamy Sun-Dried Tomato and Pancetta Sauce
Shuzbud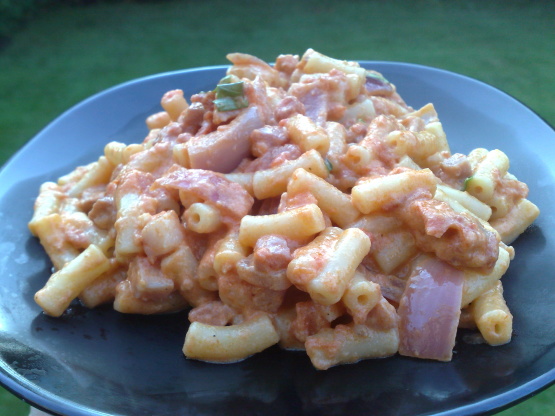 This is the weeknight version of my Gnocchi Bake With Pancetta and Red Onion- same great flavour but quicker and easier to make. If you use another type of pasta, you may need 2 cups as macaroni is small and dense. Also feel free to substitute bacon for the pancetta- it works just as well.

Rich and creamy, this is a perfect dish to make on a weeknight. I used small shells for the pasta, and for me, the amounts listed worked perfectly. I loved the sweetness that came from using sun-dried tomato. I served this as a side dish, and it would easily serve 4. Made for ZWT7- Emerald City Shakers.
Heat the oil in a skillet and add the pancetta. Cook over a medium heat, stirring frequently, for 1 minute.
Start cooking the macaroni according to the package directions.
Add the red onion and garlic and cook, stirring, for a further 5 minutes, or until the pancetta is cooked and the onion softened.
Stir in the chopped tomatoes, sun-dried tomato paste, and mascarpone cheese. Simmer over a low heat for 5 minutes.
Add the chopped basil to the pancetta sauce mixture and stir. Pour the sauce over the cooked and drained macaroni and toss gently to coat it.
Sprinkle over some parmesan cheese if desired and serve!