Swirling F.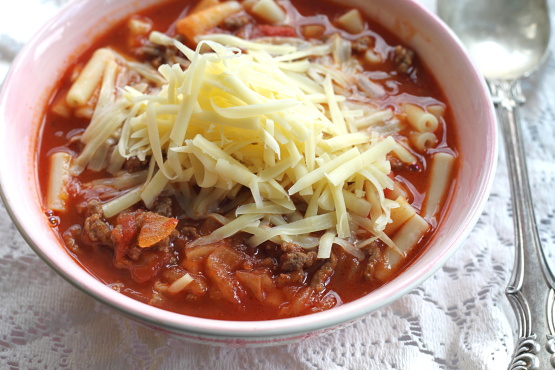 Cheesy Goodness!!! Oh My, is this good! The cheese topping makes this soup! The ingredients make a winning combination for a hearty meal. As a side use crusty bread, ritz crackers or saltine crackers.

This is a very good soup, and I doubled the recipe. I too subbed the chicken broth for the water, but only added 1 teaspoon of the salt. I would suggest reducing the amount of elbow macaroni, or you'll end up with a goulash rather than a soup, so the next time I reheated the soup, I saute'd a bit of onion in some butter, then added another can of stewed tomatoes, another can of tomato sauce, another teasp of the Worcestershire sauce, another teaspoon of Italian seasoning, another 1/2 teasp of brown sugar, a 1/2 teasp of salt, and 2 more cups of the chicken broth. I enjoyed the shredded cheddar cheese ontop the soup. One more thing I forgot to add... I too cooked the macaroni separately, then added it to the soup. Thank you for the recipe Seasoned Cook!!
Sautee onions. Brown ground beef and drain.
Place onions and browned beef in a large stoup pot with lid. Add stewed tomatoes, tomato sauce, macaroni noodles, worcestershire sauce, Italian seasoning, brown sugar, salt and water.
Simmer on a low boil covered for 30 minutes until noodles are done.
Place in serving bowls and top with cheese. (Soup must be hot enough to melt cheese.).
Note: A can of diced tomatoes may be used, but the can with the label reading "stewed" is best. Also, noodles may be cooked, then added.