Sageca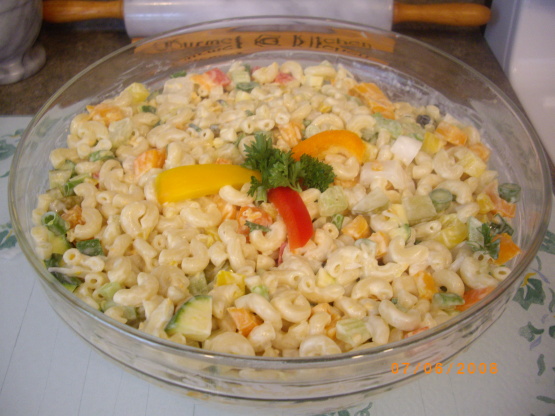 This is my basic Macaroni Salad; add your choice of vegetables you have in your crisper; your family's favourite makes it extra special. Chose lower fat ingredients for your dressing to make it healthier. For more protein add drained tuna, or ham or chichen. Here is the macaroni salad you will be making again your own way.
Bring a large pot of salted water to a boil. Add the macaroni, and cook until tender, about 8 minutes; drain.
Meanwhile, in a large bowl, mix together the mayonnaise, Miracle Whip,sour cream,dill,relish and parsley.
Stir in the macaroni while it is stilll warm.
Fold in remaining ingredients.
The consistency should be creamy; add more sour cream and mayonnaise if needed. Add salt and pepper to taste.
Refrigerate for at least 4 hours before serving, but preferably overnight.
Cooking time is chilling time.