iris5555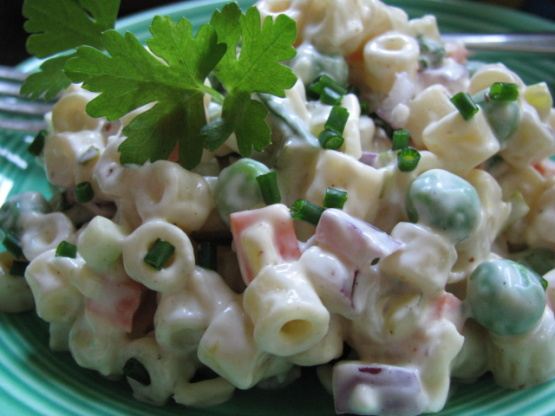 I take this salad to a lot of picinics during the summer and it is always a big hit. I know it looks like a lot of ingredients, but it is really simple to assemble. I vary it with diced ham, turkey or chicken as well. The recipe is easy to double and the serving amount really depends on what you intend on having it for a side dish or a buffet type item.Enjoy!

Top Review by 591979
I was looking for a simple recipe to make to sell in my deli. I tried this recipe and it was an instant hit. This salad is a "drier" macaroni salad. Some macaroni salads seem to bathe in mayonnaise. This does not. I have been making this salad with some adaptations for more than 6 months usually twice/week. As a note, I made this salad originally as written with both red and green peppers. When I didn't have red peppers, I substituted roasted red peppers finely diced or diced pimento. It doesn't add a lot of flavor, but it makes for pleasant presentation.
Combine first 6 ingredients in a large bowl; stir well.
Add macaroni and remaining ingredients.
Toss well to coat.
Cover and chill for at least 2 to 4 hours before serving.