Boomette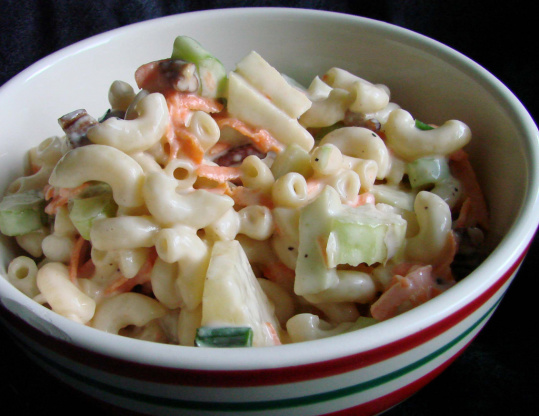 Excellent creamy pasta side dish with crunch from celery and apple chunks. Make this dish the night before to accompany a picnic lunch. When packing for a picnic lunch I find it easy to store the salad in a large Ziploc bag, it leaves more room in the cooler for other goodies this way. The recipe was originally printed in Company's Coming - Weekend Cooking
This macaroni salad is very good. I was not sure of the pineapple in it but today I really like it (I made it yesterday). I used 1 cup of chopped celery, 1 cut chopped carrot, 1 green apple, no raisins. I omitted the garlic salt. Thanks Camden Cook. Made for New Kids on the Block Tag game.
Cook macaroni in boiling water and salt in large uncovered pot for 5 to 7 minutes, stirring occasionally until tender but firm. Drain. Rinse under cold water. Drain and put into a large bowl.
Add next 7 ingredients and toss.
Combine the next 5 ingredients in a small bowl then pour over macaroni mixture and toss until well coated.