Parsley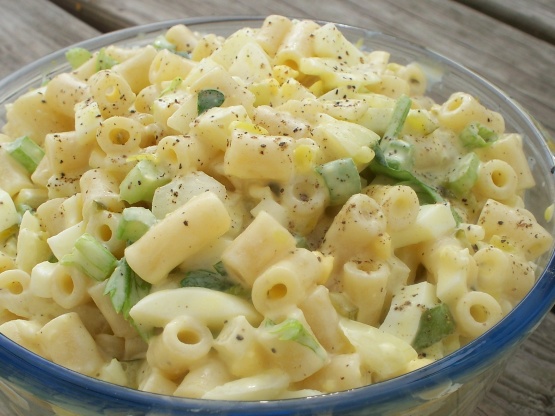 Delicious macaroni salad that everyone loves! My grandma's recipe.

I used Coleslaw Dressing from the produce section refrigerated dressings. I also added grapes sliced in half and added diced chicken. Serve over Boston lettuce and sliced heirloom tomato wedges. The chicken I got ready cooked in my supermarket salad bar. Add walnuts if you like. Becomes a full summer dinner!
Cook 2 cups of macaroni according to the directions on the package. I add about 1 teaspoon cooking oil and some salt to keep macaroni from sticking together.
While the macaroni is cooking, in another pan hardboil 2 or 3 eggs (sometimes I just rinse the eggs and put them in with the macaroni).
Drain the cooked macaroni, and put in large bowl.
Peel the hard boiled eggs, chop them up and add to macaroni. Also add the onion, celery and pickles. To keep the macaroni sorta moist, I pour a little bit of the pickle juice in-- about a tablespoon.
Mix in mustard, celery salt, pepper, and mayo. If it seems too dry, add more mayo until you like the mixture--not soppy but not dry. You will know!
Chill before serving. Enjoy!