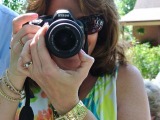 Our next-door neighbor, when I was growing up, always served this to company. She said she never met anyone who didn't like it. I've found it works well for covered dish meals.
Directions
Cook macaroni according to package, drain thoroughly.
Combine with soup, onions, peppers, and eggs.
Spread in greased 9x13-inch pan.
Bake at 350°F for 25 minutes.
Add seasonings to sauce; pour over macaroni and spread evenly.
Sprinkle cheese on top and then top with pepperoni slices.
Bake 10 minutes longer.