Parsley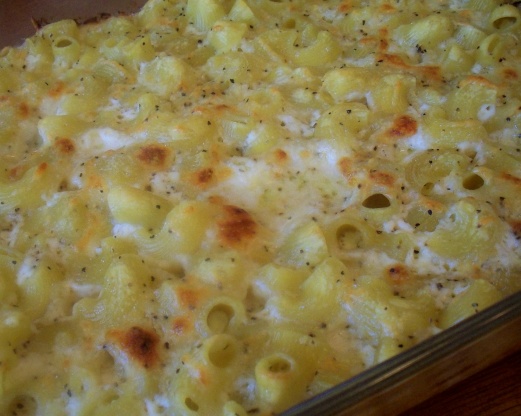 Homemade mac 'n' cheese always beats the stuff in a box and this version is easy enough to whip up at short notice.

This was a really good, mild-flavored macaroni dish. I made this as written, but doubled the cheese, using half gruyere and half swiss. I loved how the top got nice and browned. I think this goes best with a bold-flavored meat or main dish. I think next time, I'd add some fresh herbs and maybe a spice such as nutmeg or dry mustard or paprika just to perk up the flavor a tad. I'd also double the recipe. :) Thanx!
Preheat the oven to 190 degrees C.
In a large pot, bring 2 liters of water to a boil with a bit of salt and add the pasta.
Cook for 8 minutes.
Drain by lifting it out of the water and immediately coat with the olive oil.
Meanwhile, take a broad oven proof dish-- wide enough to comfortably fit two layers of pasta.
If it is too small the pasta will be too deep and only a small portion of it will be"au gratin".
Rub the inside of the dish hard with the clove of garlic, cut in half.
In a bowl, mix the pasta with the cream and cheese.
Season with salt and pepper and pour into the ovenproof dish.
Dot the surface with butter and put into the preheated oven for 10-15 minutes.
When it is done you should have a wonderful golden gratin.
If you want more colour, you can pop the gratin under the grill for a minute or so.