Parsley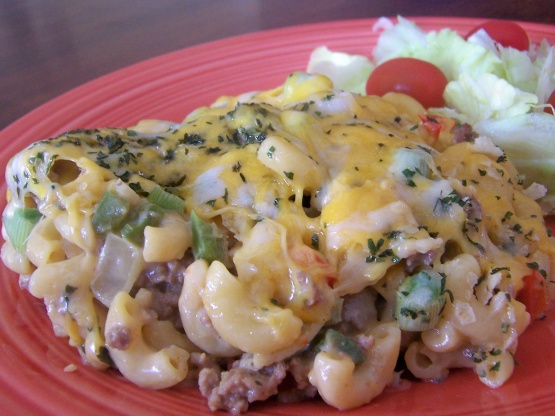 A quick, comforting casserole. Good garnished w/ chopped tomatoes, sour cream and black olives

I modified this a bit by making my own Cheese sauce instead of using the jarred sauce. I also slightly pureed the green and red peppers so that my toddler would eat it and I added chopped black olives to the mixture. It was a great dish that my toddler really liked and I felt guilt free with all the veggies in it. Thanks "Parsley" this will be in my family for years to come!
Preheat oven to 350 degrees. Lightly grease/spray a 13" x 9" baking dish.
Brown ground beef, peppers and garlic in a large skillet until beef is no longer pink; drain and place back into the skillet.
Meanwhile cook macaroni according to package directions, drain.
Add cooked, drained macaroni to drained cooked beef in the skillet; add 1/4 cup green onions, seasonings, salsa con queso, and 1/2 cup of the crushed chips; pour into the 13 x 9-inch baking dish.
Sprinkle with remaining 1/2 cup crushed tortilla chips and remaining 1/4 cup green onions. Evenly sprinkle with the cheese and cilantro.
Bake at 350 degree for 30 minutes or until thoroughly heated.