Parsley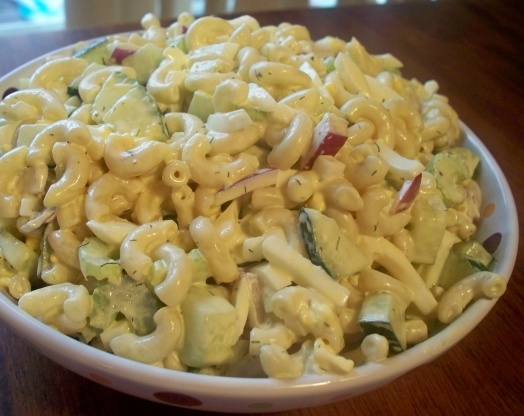 I like to serve this individually on a lettuce line plates with a sandwich.

This was a very nice, light, refreshing macaroni salad. Great for summertime outdoor eats. The cucumber and dill make it. Thanks for the post.
Dice 3/4 of the cucumber and save remainder for garnish.
Mix the macaroni, cucumber, celery and onion together.
Make a dressing of the salt, pepper, dill weed, vinegar and oil.
Toss with the macaroni mixture.
Chill thoroughly.
Coarsely chop 4 of the eggs and halve the other 4.
Add the chopped eggs and mayonnaise to the macaroni mixture.
Mix lightly.
Arrange salad in a lettuce-lined bowl and garnish with the halved eggs and reserved cucumber slices.