Macaroni, Cottage Cheese & Bacon
This was my favorite recipe when I was growing up, and now my children love it.
Directions
Cook elbows according to package directions.
Cook one package of bacon and crumble into little pieces.
Stir together elbows, bacon pieces and cottage cheese.
Most Helpful
My mom and my grandmother made this all the time when I was growing up and I am almost 60 and I still love it, so easy and simple to make.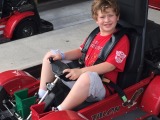 I'm not really a fan of plain cottage cheese, but this was wonderful! I halved the recipe, only used 1 cup elbows, 1 cup cottage cheese and 3 slices of turkey bacon. Delicious! Will be making this often since it is so easy.
I have made this recipe for many years, with the exclusion of the bacon, which sounds wonderful, by the way. The butter that I have always used, will be replaced with the bacon. Thanks.