twissis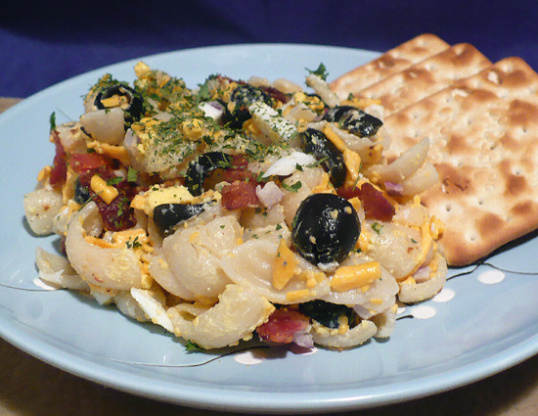 This was on a local cooking show the other day and looks like it will be a good and EASY recipe any potluck event.

Made for your *Wk 13 Football Pool Win* , this M&C salad is full of flavor, texture & my fave ingredients. I have 2 mouths to feed here & 1 of them prefers potatoes to pasta, but will eat it w/me since I love it so much. That said ~ I made a 1/4 recipe of this & it made a lot! If this is meant to feed roughly 4-5, then they must be teenagers w/empty legs! I did have to use a med-size shell pasta & shredded cheddar because they were what I had. 1 of the things I esp like about this salad is that it is not swimming in mayo like so many of its genre. In fact, I found it a bit dry, in need of more mayo & also in need of a fair amt of S&P. BUT both mayo + the S&P are so much matters of pers pref that it works well to be able to adjust for them vs accept an excess. Thx for sharing this recipe w/us. I liked it a lot. :-)
Boil macaroni according to package directions. Drain and rinse in cold water.
Dice onions, slice olives, cube cheese, and cut eggs in big chunks.
Add all onions, olives, cheese ,and eggs to macaroni one at a time.
Combine mayonnaise and dijon mustard.
Toss into macaroni salad.
Add bacon bits and season with salt and pepper to taste.
Toss well to mix.
Refrigerate to chill.