Macaroni & Cheese, Flourless Sauce
chia2160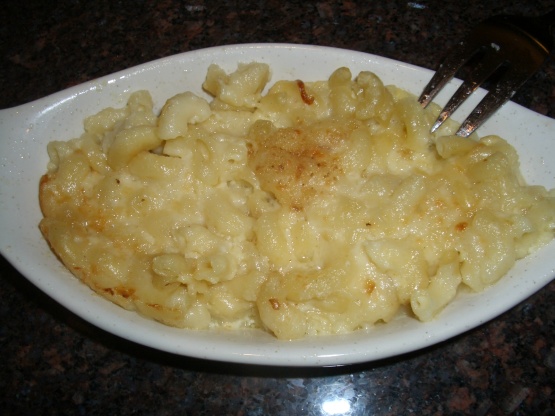 i was looking for the ultimate mac n cheese recipe and found this old one i had forgotten about. even picky dd4 had 2 servings. it's wonderful.obviously this is not gluten free, since it uses macaroni, but there is no added flour in the cheese sauce.

I used the cream cheese version for my daughter's baby shower. Since I have family who are gluten intolerate, I used rice macoroni instead of the traditional wheat. For the topping, I used only the shredded cheese and skipped the bread crumbs. It was a huge hit! My family loved being able to eat a long time favorite again!
heat oven to 350.
add macaroni to boiling water and cook for 7 minutes, drain and return to pot.
meanwhile heat milk, vermouth and yogurt in a saucepan until just about to simmer, remove from heat.
beat eggs in a bowl.
add milk to eggs, slowly, stirring to temper.
return to saucepan and cook on low heat until starting to thicken.
stir in 12 oz of cheese stirring to melt.
add to macaroni, mix well.
spray a 2 quart baking dish or an au gratin dish with cooking spray, add macaroni.
top with 1 cup cheese, bread crumbs and pieces of butter.
bake 35 minutes until bubbling.
you can stick it under the broiler for a few minutes if you like it browner.