Sara 76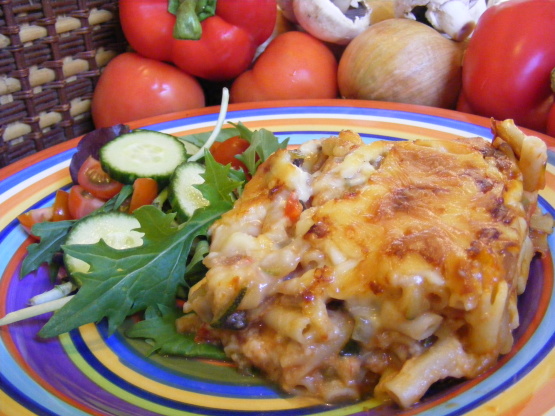 This is my sister's recipe. It's easy, quick, and full of vegetables! A very tasty pasta dish! If you like a little bite, add more cayenne pepper!
I made half the recipe. I used 1 red bell pepper. I had to omit the mushrooms cause they turned bad. I didn't use cayenne pepper because my son would have find it too spicy. I used mozzarella cheese and a leftover of strong cheddar. I added just a little bit of dried oregano and basil. Thanks Sara. That's really good. Even my son loved it. Made for the Count Dracula and His Hot Bites for ZWT7
To a saucepan of boiling water, add macaroni and olive oil. Boil until macaroni is JUST tender. Do not over cook it. Drain, and set aside.
In a large saucepan, place onions, capsicums, mushrooms, and zucchini. Sprinkle with a little water, cover, and cook over a medium heat until tender.
To the vegetables, add the soup, 1 can of water, and cayenne. Bring to the boil.
Add 500g cheese, mix through.
Add macaroni, mix all together, pour into a large baking dish.
Cover with extra cheese, and bake at 180C for around 30 minutes, or until cheese has started to brown.