Annacia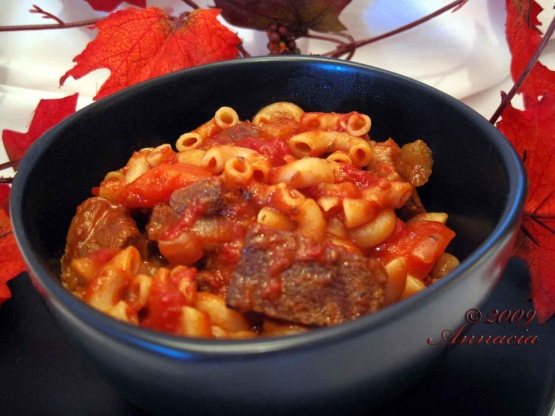 This recipe comes from Pillsbury Anytime Pasta & Pizza. A 1986 version of those supermarket booklets. The macaroni adds a nice change from the usual potatoes.

I made this for DH & DS and they both enjoyed it and said 4 stars. I don't know why mine came out so much redder than the others but it was well liked no matter the color. It's surely easy to make and who doesn't like that? Be sure to watch the amount of liquid once the macaroni goes in. I needed to add a cup to keep it moist .
In a Dutch oven, brown the meat in oil.
Add the remaining ingredients except macaroni; mix well.
Cover and simmer for 2 hours or until meat is tender.
Add the macaroni, cook uncovered over medium heat for 8 to 10 minutes or until the macaroni is tender, stirring occasionally.
Season with salt and pepper to taste and serve.