Macaroni and Pimiento Cheese
Deb G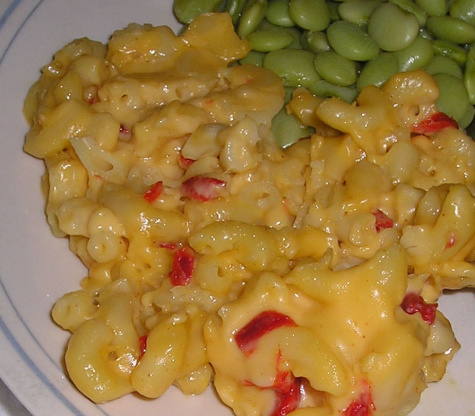 If you like pimiento cheese sandwiches toasted or grilled, you will probably like this skillet version of mac and cheese with pimiento. Based on Golden Baked Macaroni and Pimiento Cheese from the January 2008 Southern Living magazine, I omit the topping and do not bake it. See also chef Meredith. F's Macaroni-And-Pimiento Cheese Bites for an appetizer version which is chilled, cut, breaded, and fried.
Prepare pasta according to package directions. Do not salt water.
Meanwhile, melt butter in a large skillet over medium heat. Gradually whisk in flour until smooth; cook, whisking constantly, 1 minute.
Gradually whisk in 2 milk, salt, red pepper, and garlic powder; cook, whisking constantly, 3 to 5 minutes or until thickened.
Stir in cheddar cheese and pimiento until cheese is melted and smooth.
Remove from heat.
Stir in drained pasta until well coated with the cheese sauce.