Macaroni and Cheese With Veggies
Redsie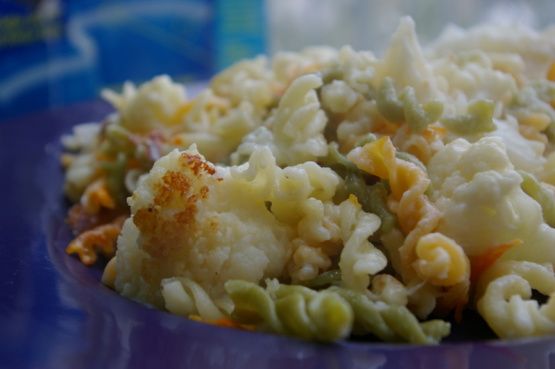 Found this unique twist on Mac and Cheese. Probably could substitute other veggies for the cauliflower (broccoli, etc.).

Great recipe iewe!! My family really enjoyed the taste of the veggies within the mac & cheese. I used half a head of cauliflower and half of broccoli and instead of grating the carrot I used matchstick slices. Also used a whole-wheat elbow macaroni pasta. It was wonderful and so easy to put together! Thanks for providing us a meatless evening meal that served with a salad satisfied everyones hunger. Made for Kid Friendly Recipe tag game.
Bring a large pot of salted water to a boil. Add the macaroni and boil.
About 3 minutes before the macaroni is done according to the cooking time on the package, add the cauliflower.
About 1 minute before the macaroni is done, add the carrots. Continue boiling until the macaroni is al dente. Drain well. Transfer to a lightly greased casserole dish.
To make the cheese sauce, melt the butter over medium heat in a medium saucepan. Stir in the flour and dry mustard to form a smooth paste. Stir in the milk and bring to a boil, stirring to prevent lumps. When the sauce thickens, stir in the Cheddar until melted.
Stir the sauce into the macaroni and vegetables. Season with salt and ppper.
Bake for 30 minutes in preheated 350 degree oven until bubbly and browned. Serve hot.