Macaroni and Cheese With Vegetables
Redsie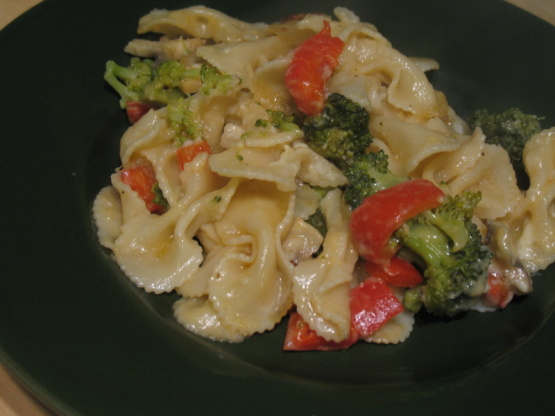 Great dish, that can be used as a side, or even as a main dish. Give it a try. I adopted this recipe in the recipe adoption and I sure am glad that I did.

I made this when I had a sore throat and wanted a forgiving texture but also some nutrition. It took a lot of pots on the stove but didn't need baking, and it was fairly adaptable. I put in peas and canned chicken instead of the pepper and mushrooms, and used rotini since I don't have a WW source of farfalle. Very tasty, like grown-up Tuna Helper. (D came into the kitchen and said, are you making a roux?! and then explained that I really needed to stir the milk the WHOLE time.) We ate it all in two days.
Bring a large pot of water to boil; cook pasta until al dente.
While pasta is cooking, in med saucepan, melt 2 T of the margarine.
Remove from heat; add flour and stir until blended.
Whisk in stock and milk, stirring over med heat until mixture comes to a boil and thickens.
Reduce heat to low.
Stir in cheeses and seasonings.
Continue stirring until cheese is melted.
Remove from heat and set aside.
In a large skillet, melt remaining 1 T margarine.
Add remaining ingredients.
Cook vegetables, stirring constantly, for about 5 minutes, until tender/crisp.
Reduce heat to low.
When noodles are done, drain well.
Toss with vegetables; stir in cheese sauce.
Garnish with scallion curls.