Macaroni and Cheese with Tomatoes
Prep 20 mins
Cook 20 mins

My mother use to make this maacroni & cheese with tomatoes. We loved it.
Directions
Preheat oven 375.
Prepare casserole dish.
Slice tomatoes into 1/2 inch thick slices, set aside.
Crumble bread crumbs with finger tips, sit aside.
In a 2 quart saucepan over medium heat, melt the butter.
Add flour, dry mustard and salt.
Cook together for 2 or 3 minutes.
Add milk little by little and continue stirring until mixture thickens.
Add cheese and stir until melted.
Place 2 tomato slices in bottom of casserole dish.
Add half of the macaroni.
Place another 2 tomato slices,then the remainder of macaroni.
Pour sauce over all.
Add 3 slices tomato on top and sprinkle with bread crumbs.
Bake 20 minutes and Serve Immediatly.
Most Helpful
This was the best Cheese Macaroni I've ever had. The tomatoe is the secredt ingrediant. The bread crumbs were a nice touch as well!

I'm sorry its taken so long to rate this recipe. I have made it several times. It was very easy to make and went well with baked chicken. My super picky son - who hates all vegetables - ate two helpings. Oh and I used a 14.5 oz can of petite diced tomatoes. Thanks for posting!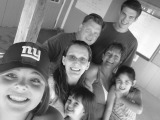 My husband and I love the basic mac and cheese recipe. In fact my husband asked me to make this recipe our regular mac and cheese! I loved the tomatoes, but my husband didn't. So I made just one layer of fresh tomatoes on the top. He liked the bread crumbs so I will continue to make this with one layer of tomatoes and bread crumbs on top. Thanks for the recipe. Carole in Orlando