Macaroni and Cheese With Tomato
Prep 30 mins
Cook 30 mins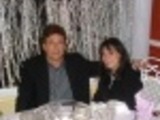 From "The Choice is Cheddar", Good Food Magazine, October 1986.
Directions
Heat oven to 400 degrees.
Heat large pot of salted water to boiling. Add pasta and cook until tender but still very firm. Drain thoroughly and transfer to mixing bowl.
Meanwhile, melt butter in heavy medium saucepan over medium-low heat. Add flour and stir until smooth. Reduce heat to low and cook, stirring constantly, 3 minutes. Gradually whisk in milk and broth. Heat, stirring constantly, until simmering. Stir in tomatoes, salt, and pepper. Simmer uncovered, stirring occasionally, 5 minutes. Remove from heat.
Add 1 cup Cheddar, the Gruyere, and Parmesan to sauce and stir to combine. Pour sauce over pasta and toss to combine. Transfer 2-1/2 quart casserole.
Bake 15 minutes. Stir carefully but thoroughly, then sprinkle with remaining Cheddar. Bake until bubbling hot and cheese is golden brown, about 15 minutes longer. Let stand 2-3 minutes before serving.
Most Helpful
This is mighty good mac & cheese!! Used some Rotel tomatoes to give it a nice kick - and loved the cheesy sauce!! Nice mix of cheese. Added much more ground pepper - perfect comfort food! Thanks Jackie! :)

Pure comfort food. I made as written and it was great, but I will double the amount of tomatoes next time, as it didn't seem to have enough for us. I have used Jack cheese with cheddar, but never Gruyere and I really liked the added zing it gave it. I also used an extra sharp cheddar. (To diner524-it sounds like you got a smoked Gruyere. Find a non-smoked one and try it again. It is worth it :) )

I am not rating this, as I feel the cheese I got from the Deli wasn't the most appropriate type of gruyere cheese, as it tasted so much of a smoky flavor. Having never had gruyere cheese not sure if that is how it is supposed to taste. I made half of the pasta and sauce. I picked this recipe as I am used to making macaroni and then adding a can of diced tomatoes, cheddar cheese and salt and pepper, and thought this sounded even better than might quick version. I would definitely make this again but omit the gruyere cheese. Thanks for sharing this recipe. Made for 123 Tag.