Macaroni and Cheese With Caramelized Onions
JSkizzle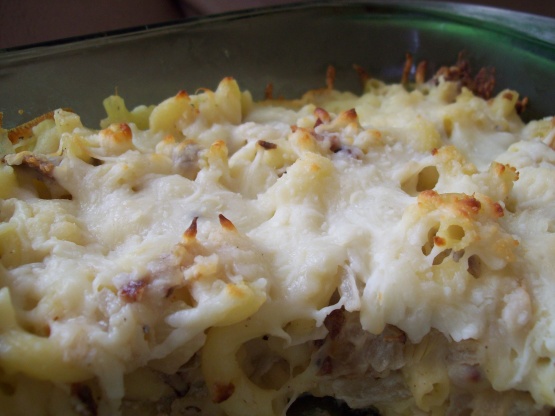 This recipe just came to me via email from bhg.com I've yet to make it but it looked, and sounds, amazing.

This is more of an adult type mac and cheese - mild but definitely perfect for onion lovers like myself. I followed the recipe exactly as written using gruyere cheese and half-and-half. I'm not the best onion slicer so instead of the long thin pieces I was supposed to have I got short kind of thin pieces but I did the best I could. They still caramalized just fine after about 10 minutes in the pan. The cheesiness was just right. Loved the combo of mozz and gruyere and the bacon added a nice touch. Thanks!
In a large skillet cook bacon over medium heat until crisp, turning once. Drain bacon on paper towels; crumble. Reserve bacon drippings in skillet.
Cook onion in reserved bacon drippings for 5 to 8 minutes or until onion is tender and golden brown. Set aside.
In a large saucepan cook macaroni according to package directions. Drain and return to saucepan. Stir in the crumbled bacon, onions, 1-1/2 cups of the mozzarella cheese, the gruyere cheese, half-and half, and pepper. Toss gently to combine. Spoon into a 1-1/2-quart casserole.
Bake, uncovered, in a 350 degree F ovenfor 20 minutes. Stir gently. Top with the remaining mozzarella cheese. Bake for 10 minutes more or until top of casserole is brown and bubbly. Let stand 10 minutes.