Macaroni and Cheese Surprise
Dorel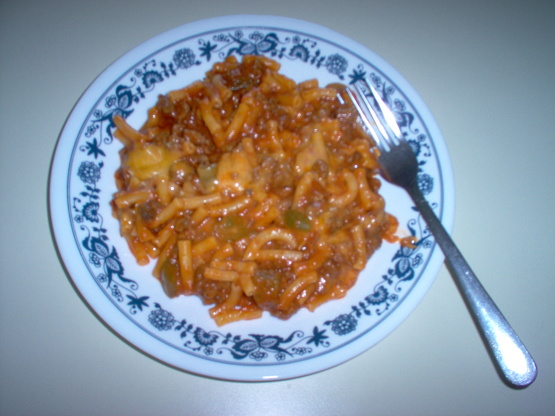 My mother-in-law came up with this recipe and I had to learn to make it because my husband LOVES it. She always makes it for potluck dinners because kids love it. We always add a little sugar to the sauce, but that's optional.

This is exactly what it sounds like. Good, unpretentious comfort food. It won't knock your socks off but it is great for those times when you don't feel like messing around too much in the kitchen and you don't know what to make. Especially since the ingredients are usually on hand. I would recommend this especially to people just learning to cook as this dish is extremely simple. Personally, I will probably add mushrooms, onions & peppers next time.
1

lb ground beef

1

(18 ounce) jar mushroom and green pepper flavor spaghetti sauce

1

(7 1/4 ounce) box macaroni and cheese mix

8 -10

slices individually wrapped cheese (Kraft Singles)
Brown the meat and drain.
Add spaghetti sauce and let simmer.
Boil macaroni as directed on box.
Drain macaroni and add back to pot.
Add the cheese from the macaroni and cheese dinner.
When the cheese is distributed, add the spaghetti sauce mixture.
Mix well.
Pour into 13x9 casserole dish.
Cover the mixture with the Kraft singles.
Bake at 375F for 10 minutes or until cheese is melted.
Let stand for 5 minutes before serving.