Calee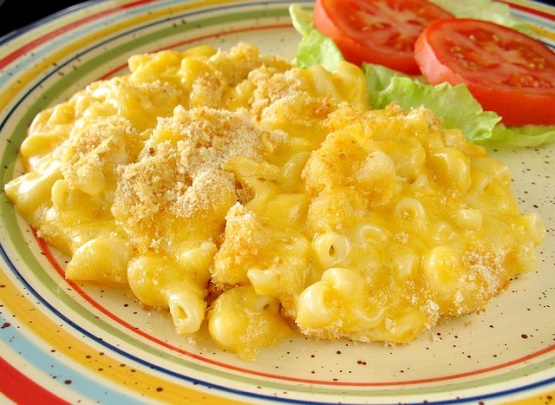 I know the ingredients sound strange but this the creamiest mac and cheese I have had. I do add more cheese but that is to your liking. I also have found the more variety of cheese the better it is. I usually use extra sharp cheddar, sharp cheddar, mild cheddar, and monteray jack.

Great- creamy, cheesy, and fast, which is exactly what I needed after a long day and with hungry kids waiting. Some preferred theirs directly from the pan to their plates-- it was good that way, too. Personally, I like a little crunch on top, so I used a combination of breadcrumbs and french fried onions on my little corner of the baking dish. ;) I divided this between two 8x8 pans, and the second one will go to my sister along with the ham dinner I'm taking her tomorrow. I'll definitely keep this recipe in mind when I need a quick and easy side!
2

cups small elbow macaroni, cooked aldente

1

lb shredded sharp cheddar cheese

8

ounces low-fat sour cream

1

cup water, reserved from macaroni

3

tablespoons breadcrumbs
i can't believe it's butter-flavored cooking spray
Combine all ingredients except water. Add water a little at a time if mixture is to thick.
Put in an oven safe dish.
Top with breadcrumbs.
Spray I Can't Believe It's Butter over breadcrumbs.
Cook for 20 to 30 minutes at 350 degrees until breadcrumbs are golden brown.