PaulaG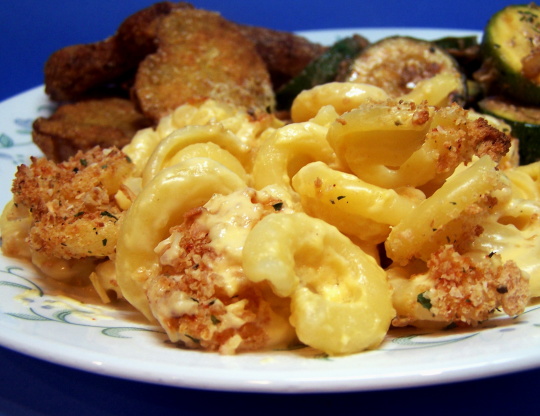 A family favorite that on busy days I cook completely in the microwave. On days that I have more time I may finish by baking in the oven.

It's better when it goes in the oven, because the top layer becomes toasted and even more delicious. I just tried this recipe tonight, and next time I'm going to save a 1/4 C. of cheddar and dice it and throw it in the macaroni mix. The sauce is a little too milky, but I think it'd be fine if you put in some small chunks of cheddar, because it'd change up the taste. I also added minced onions tonight, and it made it even better. -Gali
Melt butter in 1 quart glass measure on full power for 45 seconds.
Stir in flour, salt, and pepper to make a paste.
Slowly whisk milk into measure and cook on power level 8 for 6 to 8 minutes or until thickened. Stir several times as it thickens.
Mix in cheese and stir until melted.
Mix the cheese sauce and macaroni together in a greased 1 1/2 quart casserole.
Top with bread crumbs and paprika.
Cook on full power for 3 minutes or until bubbling.
If you would like you could bake in the oven on 350°F for 20-25 minutes or until bubbling and golden brown.