ImPat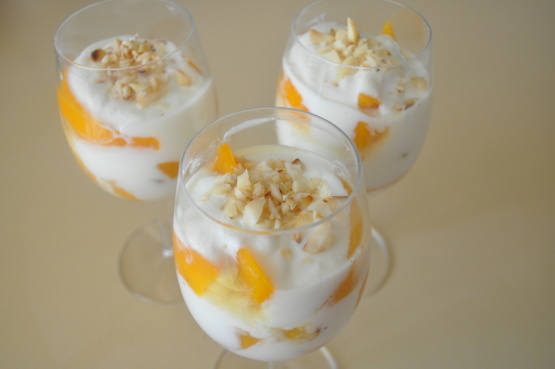 This recipe uses Australia's only native nut.

Top Review by ImPat
I scaled this back for 3 serves and used 250 grams very light ricotta cheese for 3 serves and another 1/2 cup of sliced peaches to fill the wine glasses that I was serving in (that took them to 3/4 full) and I finely chopped 6 of the toasted macadamia nuts to serve on top. I would suggest using a pot thickened yoghurt as I think it would be thicker than the one I used hence I had to use more ricotta which made the mix a little grainly but overall a light and delicious dessert enjoyed by the DS, DM and myself. Thank you katew, made for Make My Recipe.
Whip together ricotta, yoghurt, vanilla extract and icing sugar till thick and fluffy.
In a glass serving bowl or individual parfait glasses place a lyer of peaches.
Top with some of the ricotta mix.
Sprinkle with some of the roasted macadamias.
Repeat making as many layers as desired, finishing with the ricotta.