Macadamia Nut White Chip Pumpkin Cookies
Prep 15 mins
Cook 11 mins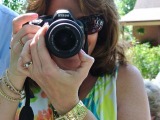 I'm not sure where I got this recipe from originally but the combinations fascinated me. When I went to make them I didn't have any cardamom (and almost past out when I saw the price of a little bottle!) so I used 1/4 tsp. nutmeg and 1/4 tsp. ginger in place of it. I loved the results! If I every can afford the cardamom (ha ha!) I'll try the recipe again as written.
Directions
Combine first 4 ingredients in a small bowl.
Beat butter and sugars in a large bowl until creamy.
Beat in pumpkin, egg and vanilla until well mixed; gradually beat in flour mixture. Stir in chips and nuts.
Drop by rounded Tbls. onto greased baking sheet; flatten slightly with back of spoon or greased bottom of glass dipped in sugar.
Bake in preheated oven at 350°F for 11-14 minutes.
Cool for 2 minutes, remove to wire rack to cool completely.
Reviews
Most Helpful
These have been an absolute hit with everyone every time I have made them. They are incredibly easy to make and just heavenly!
Yummy! I made these without the macadamia nuts, and used the nutmeg and ginger suggested instead of cardamom.

The recipe comes from an old Hershey's Cookies and Bars recipe book that I still have. I have made these so many times and they are out of this world! I use Pumpkin Spice instead and sometimes I use Walnuts and they are just as good. This cookie is like eating a piece of candy! It's a holiday favorite!
Thanksgiving Tips & Ideas >