Macadamia Nut, Cranberry, Ginger and White Chocolate Muffins
momaphet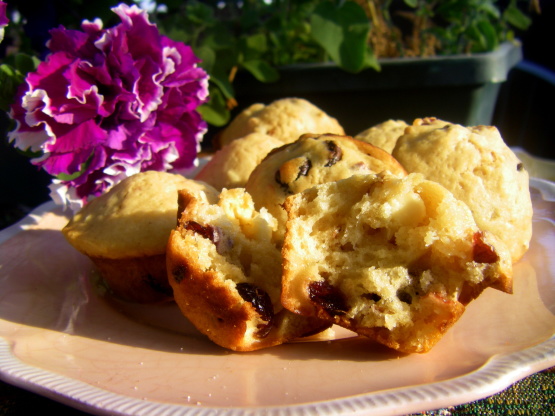 I love all the ingredients in this recipe and the muffins are delicious! They have become a favourite to bake when I plan a brunch for friends and family. Source: Local newspaper - Charlene Schmitt created these very special muffins that are somewhere between muffin and cookie
Pre-heat oven to 350 F (180 C).
Combine dried cranberries, crystallized ginger, brandy or Grand Marnier, and hot water and let sit for 15 minutes.
In a large mixing bowl beat egg. Add brown sugar and butter and continue to beat for one minute. Stir in buttermilk.
In separate bowl combine flour, baking powder and salt. Mix thoroughly. Add this mixture all at once to the egg mixture. Stir lightly until combined. Do not over mix.
Fold in white chocolate chips and nuts, along with cranberry and brandy mixture, into the batter. Spoon into muffin cups.
Bake for 25 to 30 minutes until tops are slightly browned.